Instant Effortless Knowledge!
Here's a fast, easy way to learn all the Presidents of the United States (forever) in less than 20 minutes! In no time at all, you will be able to remember the names of all 44 presidents – in chronological order. Crazy cartoons and comic-book style captions create a nonsense tale that will make it impossible for you to forget the presidents.
You'll also learn lots of kid-friendly facts about each president and his term of office, some historical and hysterical highlights, and plenty of presidential puns.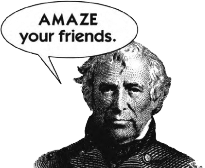 Ray guns for Reagan. Nicks on for Nixon. Fill more for Fillmore. Oh, Baaah, Ma for Obama. With five Quick Quizzes and What You Need to Know if You Want to be President, you'll soon be an authority on the highest office in the land – and having a lot of fun at the same time.